Prof. Dr. Hans Oleak (1930–2018)
Obituary by Janine Fohlmeister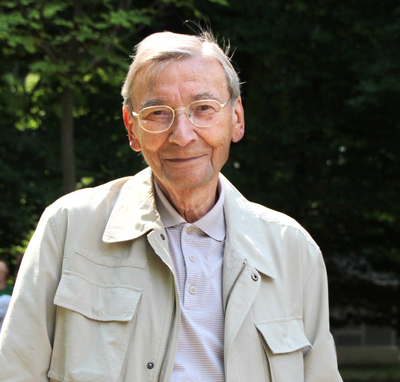 The German Astronomical Society (Astronomische Gesellschaft, AG) mourns the loss of its former member Prof. Hans Oleak, who passed away on 7 September 2018 at the age of 88.
Hans Oleak studied physics with a focus on astrophysics at the Friedrich Schiller University Jena. In 1956 he started his scientific work at the Babelsberg Observatory in Potsdam. After graduating in the field of cosmology, he was appointed professor by the Academy of Sciences in 1981. He was head of the department for the field of extragalactic research at the Leibniz Institute for Astrophysics Potsdam (AIP) and taught at the University of Potsdam, the Humboldt University and at the Technical University in Berlin. The astrophysicist was one of the co-founders of the European Astronomical Society in 1990 and founding member of the Urania Association in Potsdam.
Hans Oleak always shared his enthusiasm for astronomy with great dedication and it was important to him to pass on his knowledge in a comprehensible way. He gave numerous popular science lectures, organized teacher trainings and was chief editor of the astronomical magazine "The Stars" from 1993 to 1996. In addition, he was involved as a board member and chairman of the URANIA Association Potsdam. He also shared his knowledge in books and television programs. In 2013, the City of Potsdam honoured him for his commitment with the honorary office award. In March 2018 he received the Wilhelm Foerster Prize from the Urania Association Potsdam.